QUALITY BEGINS WITH OUR FARMERS
At ROSE Poultry, quality begins with our skilled and dedicated Danish farmers, with whom we are in constant dialogue through our animal sourcing team.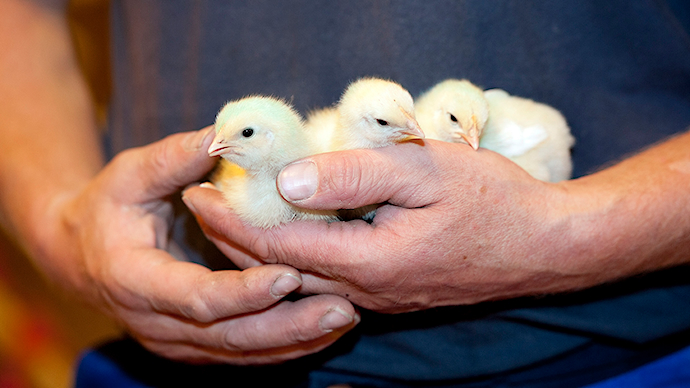 All our farmers are Danish. They have the opportunity to spar professionally with us and our vet, and together we aim to optimize everything from animal welfare to CO2 emissions. Here, our vet plays an important role, as she continuously visits the farmers. All our farmers always have the option to ask us for advice if they are faced with a concrete challenge.
The farmers are therefore central to us at ROSE Poultry and they are carefully selected so that they not only meet the formal requirements, but also have a strong focus on animal welfare and well-being. In that way, we can always give our customers what we promise - chicken with care.
Daily measurement provides continuous improvement
We also measure several parameters – for example climate and animal welfare. If we see deviations, we are quick to contact the farmers and ask how we can optimize things together.
It is the sum of the small things that make all the difference to the good and close collaboration. We are naturally curious and constantly yearn to make things a little bit better and more efficient – ​​for the benefit of both farmers and chickens.
For us, responsibility means real action throughout the value chain and continuous improvement. Together with our farmers, we promote animal welfare, just as we aim for CO2 neutrality by 2040.