COLLABORATION WITH JUNKFOOD ENSURES A WARM MEAL FOR SOCIALLY VULNERABLE INDIVIDUALS
In 2023, we have started a partnership with the organization JunkFood. This means that we provide products, including chicken breasts, minced chicken, chicken thighs, and hot wings, to JunkFood. These products are used in the over 300 daily meals produced and delivered by JunkFood to socially vulnerable individuals at shelters around Copenhagen.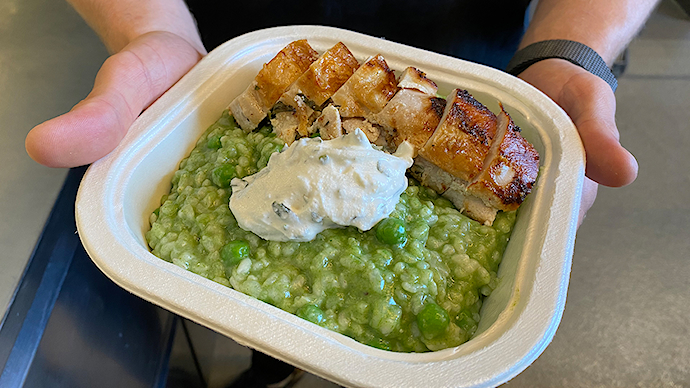 As a food producer, we often have products nearing their expiration date or unsellable due to packaging errors or other reasons that prevent them from reaching our customers and the Danish consumers. Donating these products to a charitable cause like JunkFood ensures the most optimal utilization of our surplus goods. We reduce food waste and contribute to minimizing hunger among some of Denmark's most vulnerable populations.
According to JunkFood, a warm meal each day provides a sense of calm, security, and community for the many people who live and spend their days on the streets. For many of these individuals, being served a meal can feel like an act of love and care, as well as a sense of belonging in society because someone has chosen to prepare food for them.
About JunkFood
JunkFood was founded by Rasmus Munk, the head chef and co-owner of the restaurant Alchemist in Copenhagen, among others. JunkFood is driven by the ambition to provide a warm meal every day to the homeless in Copenhagen. Year-round, JunkFood produces and delivers one warm meal to approximately 330 individuals living on the streets. JunkFood began its operations during the initial COVID-19 lockdown in March 2020 and has since delivered over 300,000 free meals to those in need. Forty percent of the ingredients used in JunkFood's production come from surplus goods.
The meals are prepared from scratch by JunkFood's chefs in their kitchen located on Halmtorvet in Copenhagen. In the afternoons, the food is packed into heat-preserving containers, and volunteers then distribute the meals to 12 shelters and hostels in Copenhagen that JunkFood collaborates with.